According to the financial statements released by public companies in the 3rd quarter, Retop continues to be the leading company in LED display industry with Q3 revenue of USD 27 million. Retop Q1 to Q3 aggregated revenue has amounted to USD 68 million, keeping absolute leading position in the LED display field.

Under the environment of "Ice and Flame" in display industry, most of middle and small companies face serious situation. In 2012, more than 200 LED display companies closed down and many other companies are struggling for surviving. While large enterprise as Retop (ETi), with its integrated product chain from wafer, chip to package and assembling and investment in high-tech equipment, always keep the competitive advantage in this industry.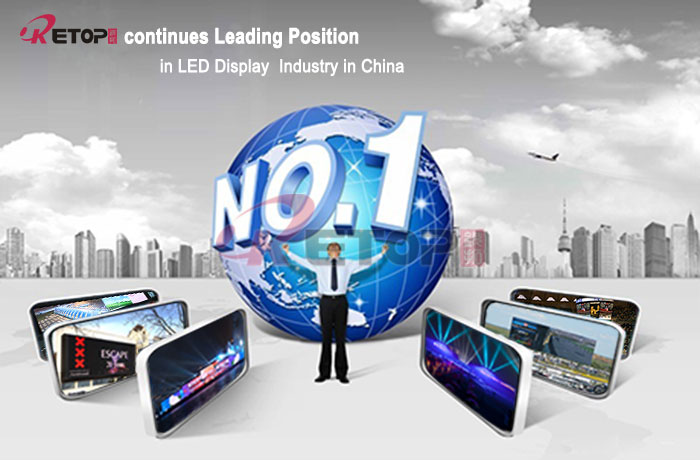 Retop could continue its growth to lead the industry thanks to the following reasons:


Vertically integrated industry chain. With its parent group ElecTech, ElecTech (Retop) heavily invested in wafer & chip(biggest investment in China industry), LED packaging, LED display, to gain better control of the cost, quality and product flexibility.

Marketing strategy to lead the red ocean (cost) and blue ocean (differentiation) markets. Leveraged on big manufacturing capacity and vertically integration, Retop is promoting standard indoor and outdoor product line to guarantee stable quality, best cost and speed-up delivery time, to cover at least 70% of the market need; Under differentiation strategy, Retop completed full EMC product line to help our customers meet the strict standard, launched 6mm outdoor high definition, front service product line, 3rd generation of architectural strip…… Large-scale customized project has always being a key factor for Retop's success.

New manufacturing capability in Wuhu. Since Jan 2012, Wuhu new factory was set up for mass production, which doubled Retop's previous capacity and ensured the revenue to be realized.


China LED display industry finally comes into the most difficult stage at the end of 2012, after experiencing the industry margin dropped dramatically. Currently there are still over 1,800 LED display suppliers in China, and the market is saturated. China's LED display market is destined for a deep integration. In Year 2012 (until Oct), there're almost 100 LED display manufacturers, distributors, servicing companies got bankrupt. Many medium-sized private companies are striving for survival in cash flow, and difficult to continue their support to the warrantee and service terms of their display systems installed.