Standard Advertising LED Display

With the innovative design and cutting edge technology, the standard advertising LED display is our latest product composed of the unit panel with the size of 960mm and 960mm in width and height. The unit panel is constituted of 9 smaller modules with the size of 320×320mm. This large size modular concept can be applied to build up the outdoor LED display screen with almost any size, allowing for large visual range. Meanwhile, it brings the significant benefits for installation and dismantling.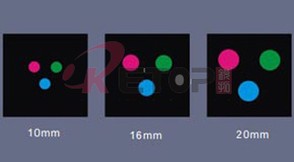 The unit panel of the standard advertising LED display has three kinds with the pixel pitch of 10mm, 16mm and 20mm. The difference of the pixel pitches is resulted from the change of the PCB board and mask. The unit panel offers a cost-effective display solution for outdoor usage. It is characterized by light weight, high brightness, extremely high precision and excellent color uniformity.
The square shape product can be composed from the unit panel with the proportion of 16:9 and 4:3. The LED boards and driving boards are combined for deployment. The related auxiliary circuit is integrated to reduce the components and connectors. Thus, the reliability and stability can be enhanced. Meanwhile, the soldering between the LED boards and driving boards can be ensured with no error.